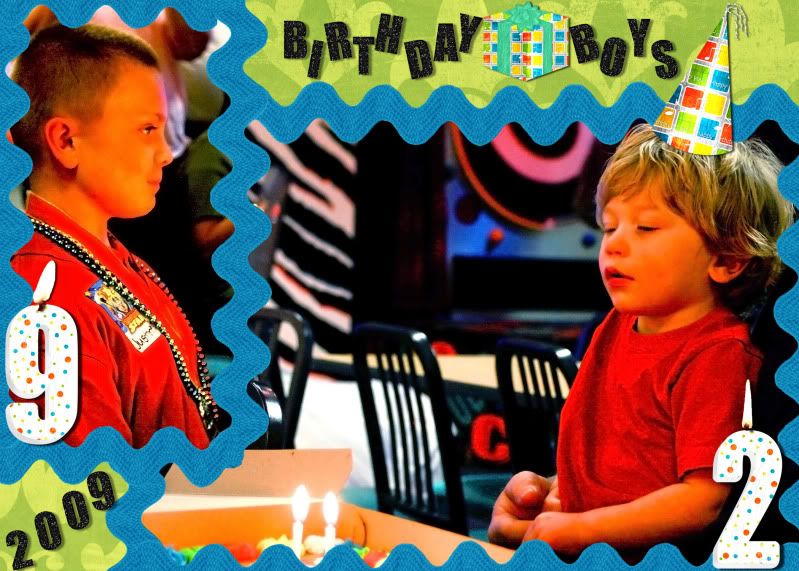 So, the kids are officially out of school, VBS starts this next week, and summer break is in full swing! We had the boys birthday party together at Chuck E Cheese on Monday (May 25). Nate turned 2 on May 26, and JRay will turn 9 on June 13! They both had an outstanding time despite half of our guest list cancelling on us. There was only one other child there, Grissom, Karen's grandson. But, lucky for JRay, Rob came (his Dad), and he had a blast with him all evening :) It warms my heart to see them so good and happy together. Rob and I had our problems, and our history is less than happy, but we've both grown and changed since then, and he's definitely not the same man I was married to. I'm really proud of him for sticking around :) That's not so common in this day and age for Dads in divorce. Papa (my Daddy) kept Nate entertained all night so PJ and I could take pictures and keep the party moving along. They had a great time, too. Nate, however was less than thrilled with Chuck E., and wouldn't go near him. I thought the phobia of talking and moving creatures was gone, but I was WRONG! I just can't believe my boys are growing up! JRay is becoming a young man, and is starting GOLF this summer. He got a set of golf clubs for his birthday, and is using his birthday money to pay half his way into golf camp this summer. So far he's played soccer and basketball, and did bowling for several years. I think golf may just be "his game". Time will tell! And you know there will be pics and bragging to come! JRay was baptized on Mother's Day, which made me even prouder of him than I already was, and I did not think that was possible! I"m so proud of the young man he's becoming, and know that God has some outstanding plans in store for him! He's my sweetheart :) He's just got the kindest, most compassionate heart of ANYONE I've ever met in my life. He is SO SELFLESS! He humbles me daily with his selflessness! He's an outstanding Big Bubby! He always has been, and Nate just ADORES him :) I am so blessed!
Nate had his 2 year old checkup on Thursday. He has grown a whopping 3lbs and 4 inches since December!!!!! He's now 35.25 inches long and 29 pounds! He's a walking, talking sponge these days. His current love is BUBBLES. He can't get enough of them!
I'll be doing the photography for VBS this week, so pray for me! I hope my back can hold up. I REALLY want to be more active than I am, but when I do decide to push myself and do more, I end up in so much pain I can't sleep for days in both my back and my neck. Please continue to keep me in your prayers, healthwise, and for our financial situation. PJ is still unemployed. We never in a million years would've thought in October when he lost his job that 8 months later he would STILL be unemployed. I know that God has a plan, and He is beginning to reveal that plan to me. I'd rather not talk about it until I'm more sure on it, but I ask that ya'll pray with us on that, as well. It would mean a BIG change for our family. And while I know that if this IS what the Lord has for us, He will work out all the "kinks", it's still a very scary thought! Especially with my health.
I promise I have good intentions with this blog! I do! I do try to keep up with it LOL, but like everything else around here, it tends to get away from me! I am contemplating starting a photography blog, as I contemplate beginning a small business with my photography to try and help out around here. I have always kept photography as a HOBBY, because it's something I love. I've always been terrified that doing it as "work" will take away the joy that it brings me, so I"ve never really had in interest in making a career of it. I will say that what I feel the Lord calling me to do involves my photography, and I know that it is a gift that He has given me, and I want to use it for Him! So we shall see where this leads. I've also been sewing more, and am beginning to get to a point I might sell a few things like burp cloths and cloth wipes, etc to make a little extra money.