I forgot to mention in my previous posts that on Wed the 23rd, Nate went to see the ophthalmologist. We saw Dr. Erik Hein, and adored him. He determined that Nate's eyes are fine :) No turning in, no farsightedness, just purely healthy beautiful eyes :) So no more eye appointments for a while! He said to keep an eye since I've been there done that, and if anything concerns me, to give him a call, otherwise, bring him back before he starts school :) This was taken after we got home from that, at least an hour after his lil eyes were dilated! Look at those pupils!
Notice the two new teeth on the bottom, too? Those are #'s 7 and 8! He's pretty much off of baby food and onto table foods now. He's also essentially weaned from the bottle and on the sippy. I don't offer it, and he does fine, but Daddy has felt the *need* to give it to him at bedtime! Tonight I convinced him not to. We put him in his highchair with the sippy cup, recline the seat (he still has trouble holding the cup upright for the drink to fall in), and let him drink :) No complaints either way!
He is crawling, pulling up, cruising, and letting go... it won't be long he'll be taking those first steps. I just can't believe how big he is getting already! And he LOVES his Bubby. He even says "bububububu" ALL THE TIME. He is saying regularly, "MaMa, DaDa, BuBu, and NaNa (we think it's both Nana and Naynay). He's a giggler, and a FAST crawler! I"ll have to figure out how to upload and post a video I took on my cellphone of him and Daddy going at it :) It's priceless.
Here he is letting go:
He looks more like his Daddy every day :) Acts like him, too! Someone save me!
Daddy LOVES to throw him into the air, and well, as you can see, so does he!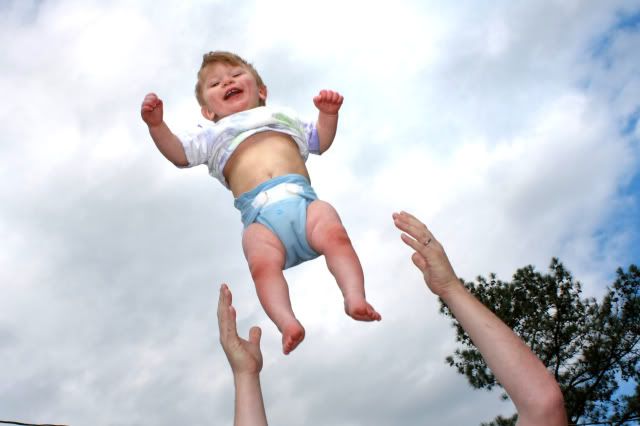 And, well, this is what happens when you put dirt in your mouth while Daddy's watching! Spit it out son!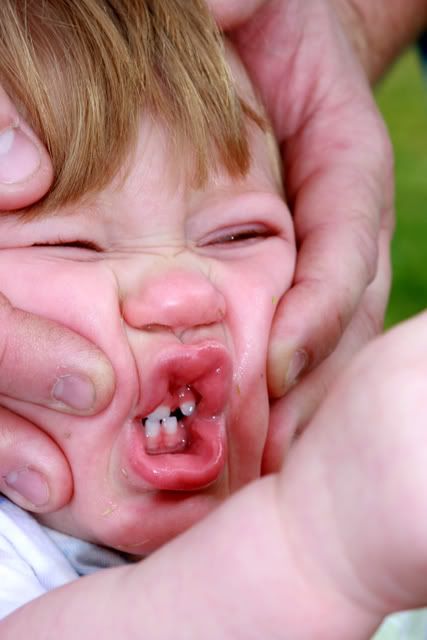 And because this is just too cute NOT to share, he finally followed in Bubby's footsteps, and discovered falling asleep at the table!
I hope to get down the the 'Ham sometime in the next couple of weeks and take both boys' birthday pics :)
And just because I have to put some pics of JRay up... even though I don't get very many of him. He doesn't like to be in front on Mommy's camera like he used to *sighs*... I guess they all outgrow it, eventually. Doesn't mean I have to stop snapping!
Caught him coming off the schoolbus one afternoon... so handsome :)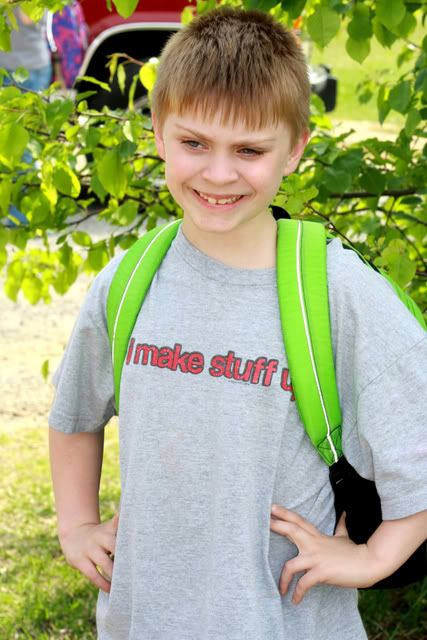 And well... this is his idea of doing homework (wouldn't be JRay without being silly!)
Caption: "Mommy, this homework is making my head hurt!"